Warning
: preg_match(): Compilation failed: invalid range in character class at offset 4 in
/home/k55lggzvdv8x/public_html/wp-content/plugins/lightbox-plus/classes/shd.class.php
on line
1384
Warning
: preg_match(): Compilation failed: invalid range in character class at offset 4 in
/home/k55lggzvdv8x/public_html/wp-content/plugins/lightbox-plus/classes/shd.class.php
on line
1384
Warning
: preg_match(): Compilation failed: invalid range in character class at offset 4 in
/home/k55lggzvdv8x/public_html/wp-content/plugins/lightbox-plus/classes/shd.class.php
on line
1384
Warning
: preg_match(): Compilation failed: invalid range in character class at offset 4 in
/home/k55lggzvdv8x/public_html/wp-content/plugins/lightbox-plus/classes/shd.class.php
on line
1384
Warning
: preg_match(): Compilation failed: invalid range in character class at offset 4 in
/home/k55lggzvdv8x/public_html/wp-content/plugins/lightbox-plus/classes/shd.class.php
on line
1384
Warning
: preg_match(): Compilation failed: invalid range in character class at offset 4 in
/home/k55lggzvdv8x/public_html/wp-content/plugins/lightbox-plus/classes/shd.class.php
on line
1384
Warning
: preg_match(): Compilation failed: invalid range in character class at offset 4 in
/home/k55lggzvdv8x/public_html/wp-content/plugins/lightbox-plus/classes/shd.class.php
on line
1384
Warning
: preg_match(): Compilation failed: invalid range in character class at offset 4 in
/home/k55lggzvdv8x/public_html/wp-content/plugins/lightbox-plus/classes/shd.class.php
on line
1384
Warning
: preg_match(): Compilation failed: invalid range in character class at offset 4 in
/home/k55lggzvdv8x/public_html/wp-content/plugins/lightbox-plus/classes/shd.class.php
on line
1384
Warning
: preg_match(): Compilation failed: invalid range in character class at offset 4 in
/home/k55lggzvdv8x/public_html/wp-content/plugins/lightbox-plus/classes/shd.class.php
on line
1384
Warning
: preg_match(): Compilation failed: invalid range in character class at offset 4 in
/home/k55lggzvdv8x/public_html/wp-content/plugins/lightbox-plus/classes/shd.class.php
on line
1384
Warning
: preg_match(): Compilation failed: invalid range in character class at offset 4 in
/home/k55lggzvdv8x/public_html/wp-content/plugins/lightbox-plus/classes/shd.class.php
on line
1384
Warning
: preg_match_all(): Compilation failed: invalid range in character class at offset 4 in
/home/k55lggzvdv8x/public_html/wp-content/plugins/lightbox-plus/classes/shd.class.php
on line
700
Warning
: Invalid argument supplied for foreach() in
/home/k55lggzvdv8x/public_html/wp-content/plugins/lightbox-plus/classes/shd.class.php
on line
707
Warning
: preg_match_all(): Compilation failed: invalid range in character class at offset 4 in
/home/k55lggzvdv8x/public_html/wp-content/plugins/lightbox-plus/classes/shd.class.php
on line
700
Warning
: Invalid argument supplied for foreach() in
/home/k55lggzvdv8x/public_html/wp-content/plugins/lightbox-plus/classes/shd.class.php
on line
707
Aransas National Wildlife Refuge biologists now estimate the population of whooping cranes to be approximately 245 individuals within their survey area. This number does not include whoopers known to be in at least five other Texas counties and other states. Some of the birds are moving around off the refuge for reasons not fully understood. It is believed that the whoopers may be seeking additional food sources. The refuge's January 2012 survey consisted of three flights conducted on January 26, 27, and 29th. Survey biologists searched Matagorda Island, San Jose Island, Blackjack Peninsula, Lamar Peninsula, Dewberry Island and Welder Flats. A second round of survey flights will take place in mid to late February.
Biologists are receiving many reports of whooping cranes outside the survey area in the following Texas counties: Matagorda, Refugio, Calhoun, Aransas, Williamson, San Patricio, Maverick, and Caldwell. Whooping cranes of the Aransas-Wood Buffalo population are also currently residing in other states as far north as Nebraska. These cranes are naturally supplementing their own food sources by wintering around freshwater lakes and other marshes.
Refuge personnel continue to help alleviate low food resources by doing more prescribed burns. This winter they have burned 8,095 acres of habitat. Whooping cranes have been observed eating the roasted acorns and other food sources in burned areas. An additional 6,129 acres are planned to be burned while whooping crane remain on their winter habitat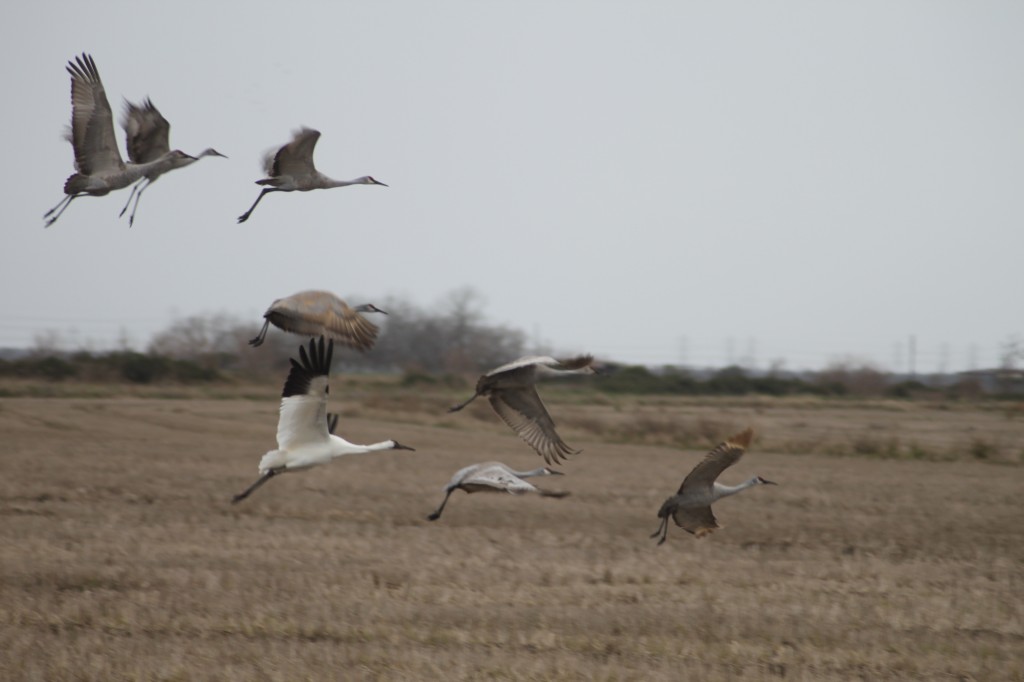 Whooping crane with sandhill cranes in Texas rice field. Photo by Leanne Sliva
Fortunately some rains have fallen of Aransas Refuge recently. The first two weeks of February produced a total of 1.89 inches of rain. Water salinity levels have dropped due to recent freshwater inflows from rain in Central Texas, as well as localized rainfall. Salinity levels in San Antonio Bay are currently recorded as 19.9 parts per thousand.  Salinity levels in surrounding bays still remain higher than normal which forces whooping cranes to expend more energy flying to fresh water sources.